rivista in rete
diretta da
stefano borselli
risorse conviviali
e varia umanità
issn 2279–6924
Non rifiutare ma preferire
(Nicolás Gómez Dávila)
La via del saggio è fare ma non contendere
(Lao Tze)
Jacques Camatte
​
The work of Jacques Camatte is surrounded by an authentic conspiracy of silence. It must be said that unlike so many other revolutionary theorists, he didn't betray, he didn't surrender, he didn't seek public recognition. Coming from a heterodox Marxism, he has imperturbably followed his uncompromising path until today. But the most unforgivable thing - as you will see when reading the few cardinal texts we publish in this volume - is undoubtedly that he accurately described, almost fifty years ago now, the fatal historical course in which capital and civilization were dragging the human species. Fifty years ago he saw the constitution of the technological society in a monstrous apparatus imprisoning the planet, ravaging all nature, mediatizing all relations, and the vital necessity to desert such a world. He saw the emptiness of contemporary subjectivities, the anxiety that propels them, and the widespread aspiration to a true human community. You have to read Jacques Camatte, because understanding the historical process is one of the rare ways not to become as crazy as the times we are going through.
(From the headline of the book Errance de l'humanité, by Jacques Camatte, Éditions la Tempête, Bordeaux 2021.)
​
Texts by Jacques Camatte published in the Covile​
​
Finding Camatte
An encounter with Camatte is the happy obligation to embark on a cheminer - a departure, a going towards something, even if it is just a place where one can stop and reflect, where one can even turn back while looking forward. Jacques Camatte keeps the elusive, but powerful, artificiality contained within the pretensions of dialogue at a distance and, instead, invites us readers and admirers to go on a journey, a search, a walk with him, and in so doing one might have the privilege of talking with him. This is what happened to us when we visited him in April 2016, and which we then intended to communicate in an issue of the magazine. That journey and path is transparently aimed for in our project of translating his works: to make the process a comprehensive human experience. By doing so - and all the more so in this moment of irreversible crisis in the thought and civilization of the West - we are abandoning anything (competition, the world, intellectual customs, ancient certainties) that is dragging us toward extinction. and all the while in a situation where everyone is feeling that the human species must attempt a reversal. The nature of this encounter with Camatte is also communicated in a text on the Cercle Marx website, presenting an interview with Camatte:
In October 2019, we had the honour and pleasure of meeting Jacques Camatte for an interview. A former friend and companion of Bordiga, Jacques Camatte was born in 1935 and has elaborated extensively and constructively on Marx's work in the magazine Invariance, founded in 1968. [...] Jacques Camatte can be considered a "wise man" (almost in the Aristotelian sense of the term): a good and deeply kind man who has come to a form of self-sufficiency in a relationship of contemplative harmony with nature.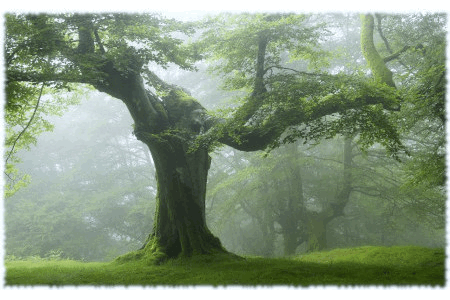 In the manner of Descartes who, in Discours de la méthode told the story of a man lost in the woods, we too got 'lost' in the middle of the woods, which meant we had to continue to the end of the path. where we met Jacques. After a long journey through nature we finally found Jacques in a magnificent place in the middle of the trees, far from alienating civilization.
Wehrlos, doch in nichts vernichtet
Inerme, ma in niente annientato
(Der christliche Epimetheus
Konrad Weiß)